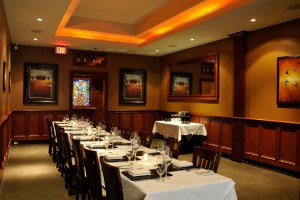 When Lucca expanded into an adjacent space formerly housing Trios Pasta Company, two elegant dining rooms were created. The larger of the two Trio rooms is an elegant space capable of comfortably accommodating up to forty guests. The high ceiling design, old Italian sketches and an antique stained glass panel create the feel of a luxurious boardroom. Some rare bottles from our wine collection are displayed in mahogany and glass wine areas.
For more information, please fill out the details of your event here and our Private Events Manager will be in touch. For any additional inquiries please email Natasha Shibko at: Natasha@luccabackbay.com
or call 617.742.9200
Our sister restaurant, Lucca in the Back Bay, is also the home of three private dining areas.  Please visit luccabackbay.com/privatedining or contact Natasha Shibko at 617 247-2400, or via e-mail at Natasha@luccabackbay.com.