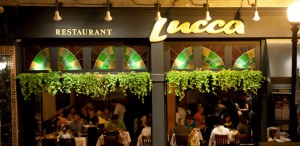 Lucca Restaurant is situated on bustling Hanover Street and the historic Freedom Trail in Boston's North End.
Named for the Tuscan town renowned for its extra virgin olive oil, Lucca offers Northern Italian classics, combined with creative innovations that are sure to tantalize the most discriminating palate.

Its attention to detail and focus on superior service make Lucca Restaurant the desired destination for an intimate dinner, business meeting, or casual gathering. Four elegant function rooms render Lucca a popular meeting place for large groups and family gatherings. Upon entering Lucca, the mood is set by stylized music, Italian granite floors, and alluring candlelight. The mahogany bar displays an award-winning array of exotic liquors, Port wines, grappa, and more. This, combined with the century-old granite walls and stained glass, lends the room an aura of warmth and intimacy.
Thanks to culinary inspiration derived from his regular trips to Italy, Lucca's executive chef Yoni Alcantara presents acclaimed regional Italian cuisine, homemade breads, authentic pasta dishes and of course succulent desserts. Time spent in the region has taught him the value of the freshest produce and ingredients. Chef Alcantara works closely with local farmers and the finest purveyors in the Northeast to ensure that nothing but the highest quality components enter his kitchen. His commitment to providing the most enticing Italian dishes is what makes Lucca Restaurant one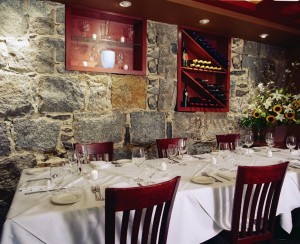 of Boston's finest dining experiences.