Please click here if you'd like to submit a request for our event coordinators to contact you.
PRIVATE DINING AT LUCCA RESTAURANTS:

With seven private dining rooms, we are confident that we can find the perfect room to host your upcoming event. We are committed to providing superior levels of outstanding cuisine, exceptional service and attention to detail rarely found elsewhere.   After you have hosted an event with us you will know why we have an extraordinarily high number of loyal clients and companies who continually rely on us to host their events.
LUCCA NORTH END
The four private dining rooms at Lucca North End can accommodate groups from ten to one hundred. We also have the ability host cocktail receptions for up to two hundred.
Seating 30 guests.
The front room offers a close and personal view of Hanover Street and the historic Freedom Trail. This room was designed to reproduce the feel of the main dining room at Lucca, with oversized mirrors and illuminated ceilings. During the summer months, the open window design creates the feeling of alfresco dining. This is the perfect room for smaller gatherings and productive business dinners of up to 32 guests.
Seating 40 guests.
 When Lucca expanded into an adjacent space formerly housing Trios Pasta Company, two elegant dining rooms were created. The larger of the two Trio rooms is an elegant space capable of comfortably accommodating up to forty guests. The high ceiling design, antique sketches and an antique stained glass panel create the feel of a luxurious boardroom. Some rare bottles from our wine collection are displayed in mahogany and glass wine areas.
Seating 70 guests.
Two solid mahogany and glass wine rooms showcase Lucca's extensive award- winning collection of Italian and American wines. Tray ceilings with lighted coves, combined with the building's original century-old solid granite foundation walls, lend this room a feeling of warmth and intimacy for groups from forty to seventy-five.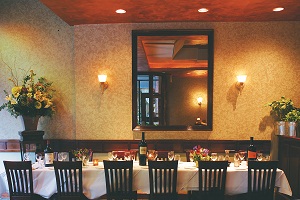 Main dining room Lucca North End

 Seating 100 guests.
  Lucca's original dining room features Italian granite floors, a solid mahogany bar, oversized mirrors and a large stained glass mural. This room's floor to ceiling windows open in the warmer months to allow people-watching on bustling Hanover Street. The largest of the dining rooms can accommodate up to ninety guests and  is a popular spot for cocktail receptions and casual gatherings.
For more information on hosting an event at Lucca in the North End, please fill out the details of your event here and our Private Events Manager will be in touch. For any additional inquiries please contact Craig at 617-742-9200, or via e-mail at ted@luccaboston.com.
LUCCA SOUTH SHORE
Our sister restaurant on the South Shore has spaces for showers to rehearsals, parties to business functions, with options to suit every event planning need. With our private dining room you can host your next function in style. There are 2 bars, 3 patios and a lounge, as well as options throughout the spacious main dining room, as well as the private function room.  With many options to choose from, we can provide the perfect space to host your upcoming event.  Contact us at 781-871-5789 for options or email julie@luccasouthshore.com.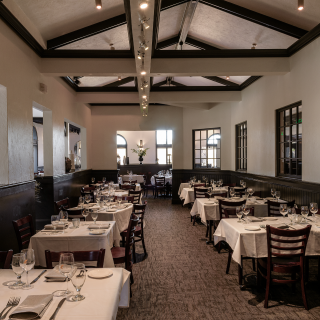 LUCCA BACK BAY
Our sister restaurant Lucca Back Bay has three private dining rooms accommodating groups from ten to one hundred.  We can also host weddings and comfortably hold two hundred people for cocktail receptions.
  Seating 20-40 guests
The lounge at Lucca Back Bay can accommodate cocktail receptions for 30 to 40 guests in a chic and cozy environment.  The elegant wood bar houses an array of liquors and cordials as well as our extensive collection of homemade specialty infused liquors and wines from our award-winning wine list. A  wide selection of Hors D'oeuvres are available to choose from; ranging from light to more substantial items, all of which have been designed specifically for cocktail receptions.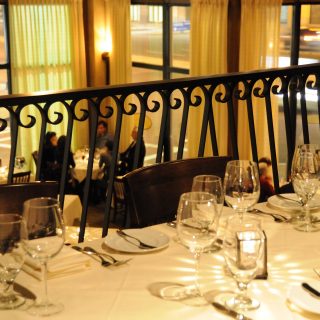 Seating 20-40 guests
The mezzanine is a spectacular dining room accessed by a very dramatic imported white Italian Carrera marble staircase.  This area can accommodate up to 45 guests and is the perfect place to host a wide array of different events.  The room overlooks the whole of the restaurant and floor-to-ceiling glass doors can be opened to become part of the restaurant or closed for privacy.
Featured in Boston Common magazine as one of the top private dining rooms in the city.
  Seating 45-100 guests
The main dining room at Lucca Back Bay is one of the most dramatic dining rooms in the city, featuring 35-foot ceilings as well as floor-to-ceiling windows throughout the dining room.  The walls are adorned with oversized sconces and 15-foot-high original oil paintings depicting figures from Italian masters like Caravaggio and Da Vinci.  The Carrera marble staircase is the backdrop and has also become the area where wedding vows are exchanged and fashion shows are conducted.
For more information on hosting an event at Lucca in the Back Bay, please contact Craig 617-247-2400, or via e-mail at craig@luccaboston.com.